General: In the past, both the web page programmer and the casual reader had to use the same font. Typically, this meant that the reader had to find a site from which to download and install the foreign language font that was used by the programmer in order to view the foreign language web page.

Unicode allows the web page developer to design a foreign language web page using a common universal standard. The reader may then use any font system that meets the Unicode standard.

The Unicode standard is an evolving standard that is becoming more capable. Some language fonts are Unicode aware, but they only display Unicode encoding for a limited Unicode range, e.g., they may only display the fonts of one particular language. Other fonts, like Arial Unicode MS, can display a very wide range of foreign language characters. However, some of its fonts don't seem as visually pleasing as Times New Roman. And, Times New Roman comes with Windows 2000, and it displays Arabic, English, Greek, and Hebrew fonts that are well formed. So, it would be a good choice.

Since Unicode is an encoding scheme that requires a Unicode aware font, the reader must configure his or her browser properly. The appropriate font must be selected for the web browser as well as the appropriate Encoding (Internet Explorer) or Character Set (Netscape).

Details on configuring both Internet Explorer and Netscape are given on the linked pages. Click on the appropriate web browser that is named on the side bar of this page.

After the web browser is properly configured, the Sample Text in the next column should display all three languages properly. The next column has the Sample Text in Unicode and in a Gif image. The Sample Text Gif image is correctly displayed. The Sample Text above the Gif image should look similar to the Gif image.

Microsoft Internet Explorer & Email: Microsoft

MS Fonts Used in the Style Sheets:

Arabic: Arabic Transparent, Traditional Arabic, Times New Roman, Simplified Arabic
Farsi: Farsi Simple Bold, Times New Roman, Arabic Transparent, Nesf
Greek: Times New Roman, Lucida Sans Unicode, Arial Unicode MS
Hebrew: Times New Roman, Lucida Sans Unicode, David

HTML Language Codes:

Language Codes: ISO 639, Microsoft and Macintosh by the Unicode Consortium
ISO 639-2 Codes for the Representation of Names of Languages by the Library of Congress

Useful Unicode Links:

Unicode Consortium
Alan Wood's Unicode Resources
FarsiWeb Project

Useful Unicode Charts:

Index for Unicode HTML Reference
Alan Wood's Unicode Charts

Useful Keyboard Layouts:

Microsoft Windows Keyboard Layouts
Windows 2000 Visual Keyboard is screen pop-up keyboard representation that helps to locate keys for the various international languages in Microsoft Windows 2000 programs.
Windows XP Visual Keyboard is screen pop-up keyboard representation that helps to locate keys for the various international languages in Microsoft Windows XP programs.
The Key Connection sells foreign language keyboards.
Fentek Industries Inc sells Arabic keyboards.
Arabic Keyboard layouts shows various Arabic keyboard layouts.

Useful Font's Property tool:

Font properties extension, version 2.1

After you install ttfext.exe, if you right click on a font in Windows, the font's properties are displayed. It provides information about the font and its language capabilities. For example, the Gif image shows various languages that Times New Roman version 2.82 supports.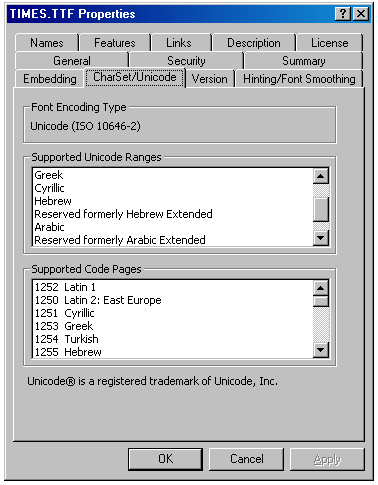 If there are difficulties with these browser and email configurations suggestions, please let me know. I have not been able to do many tests.
Last updated 12-03-2007